====WARNING: MILD SPOILERS TO WHO HAVEN'T PLAYED OR CURRENTLY PLAYING THE GAME====
I'll try to keep the spoilers minimal but if you want to keep your eyes virgin to the beautiful environment in this game, then you can pass this journal entry :'D
-------------------
SO. About last week steam had a halloween sale and I when I was browsing on what game I could buy (since my current taste of games is really picky) and I saw "Brothers -A Tale of Two Sons- was on sale. Watched the trailer, saw the screenshots, I could feel this game would be perfect for me. All hail steam for 50% discount.
Summary; the game is about Brothers who try to save their dying father by going on a long journey to find the cure.
The game itself is only 1.4GB and roughly 4-5 hours on the first play (since you need to solve things for the first time). I'll divide my personal review in few sections:
--Gameplay--
Most score went to the double-controlling idea, where you have to control both brothers at once. Left and right analog stick for movements, L2 and R2 for actions. Simple, huh? NO IT IS
NOT
. Basically you have to use both sides of your brain at once which we rarely do (except in brain exercise activities). IT IS VERY TIRING. Co-op play in single player mode, hardcore. I simply lost myself when trying to solve puzzles, since each brother has different ability and role in solving them. I had to chant "Left hand is big bro, right hand is lil bro. Left hand is big bro, right hand is lil bro." several times until I got a hold of myself again. Very challenging and entertaining. And sorry dear brothers sometimes I made one of you walk funny because I forgot which one is left, right, up, or down
because my brain is stupid yeah
.
--Puzzle Solvings--
If you have played ICO, then compared to it the puzzles in Brothers are VERY EASY, but also entertaining. Got stuck in one place for a moment before but that was because I simply messed up with the controls. Some of the puzzles are repetitive (which made me like 'aww man, come oooon') and too obvious (hello, golden handholds on dull grey rockwalls?). The main challenge is how you solve them using the brothers' different abilities, as well as trying to make your left and right brains work together (it didn't work for me in some parts and I killed them yeaaah). Some puzzles look like clearly referenced ICO--which I can't complaint, because ICO is basically the base of the very base game in this genre.
ALSO I HAVE TO MENTION THE BOSS BATTLES. No no they aren't hard but WOW SUDDEN ENCOUNTER. SUDDEN PUZZLE. SUDDEN BRAIN INTEGRATION. SUDDEN JOYSTICK VIBRATION.
SUDDEN
INTENSIFIED
ORCHESTRA MUSIC.

That really enhanced the panic and intense feeling upon the tight situations, kicked my adrenaline successfully.
--Graphic--
Perfect score. I mean, just look at these screenshots I managed to take: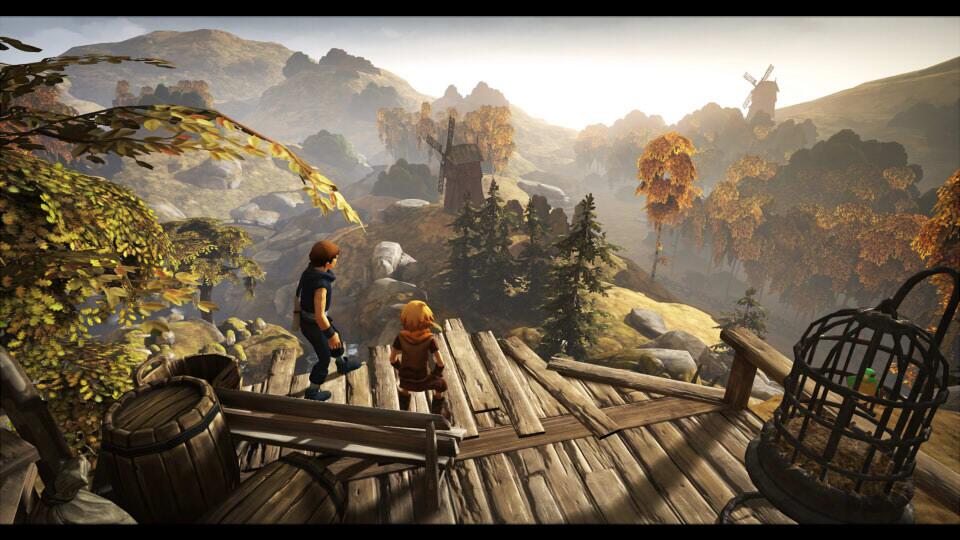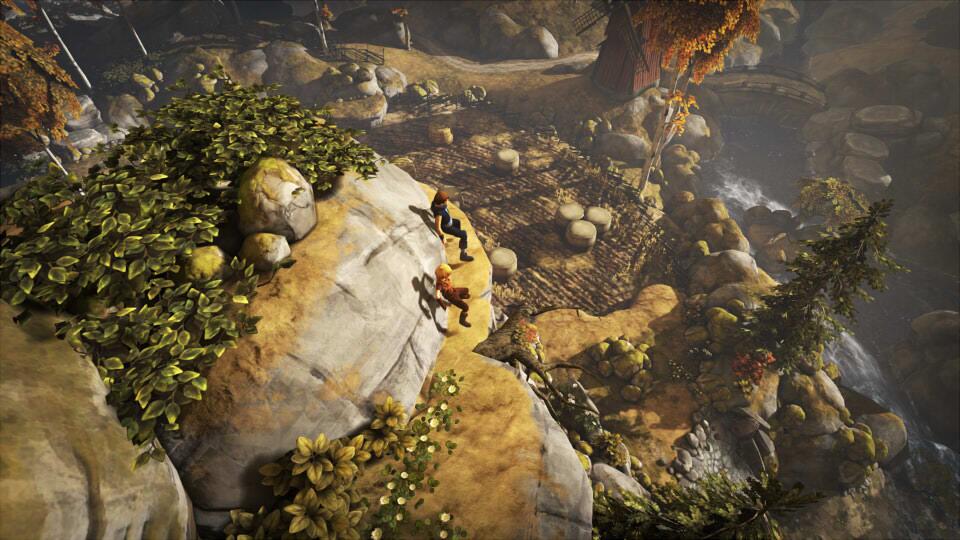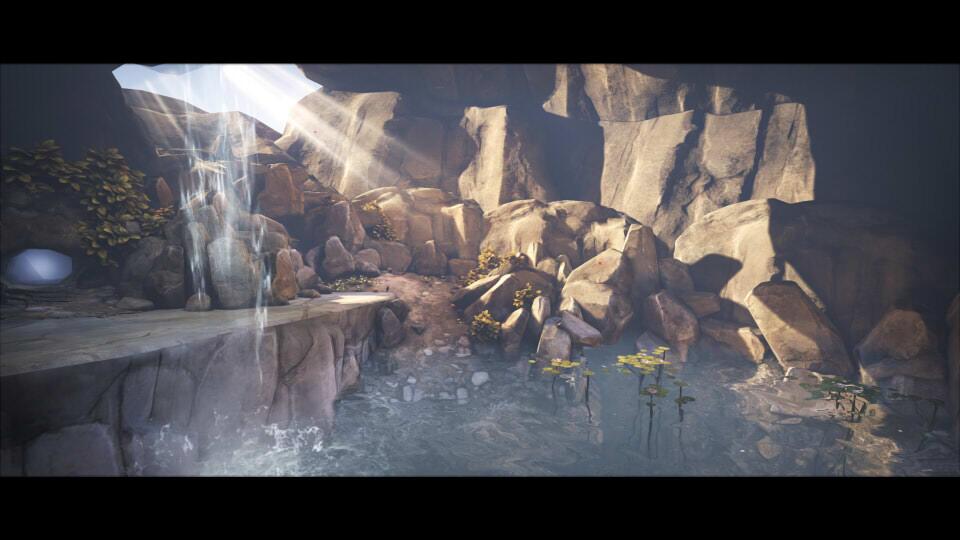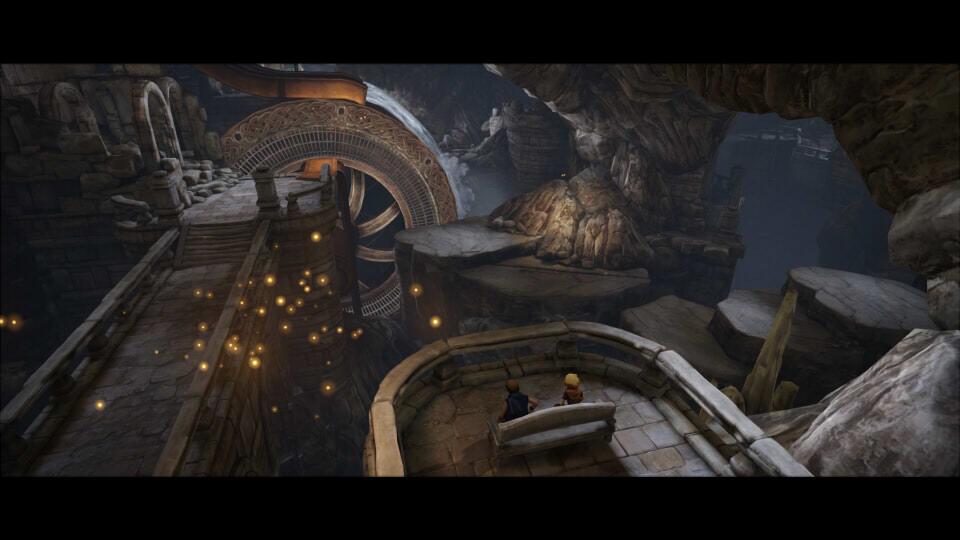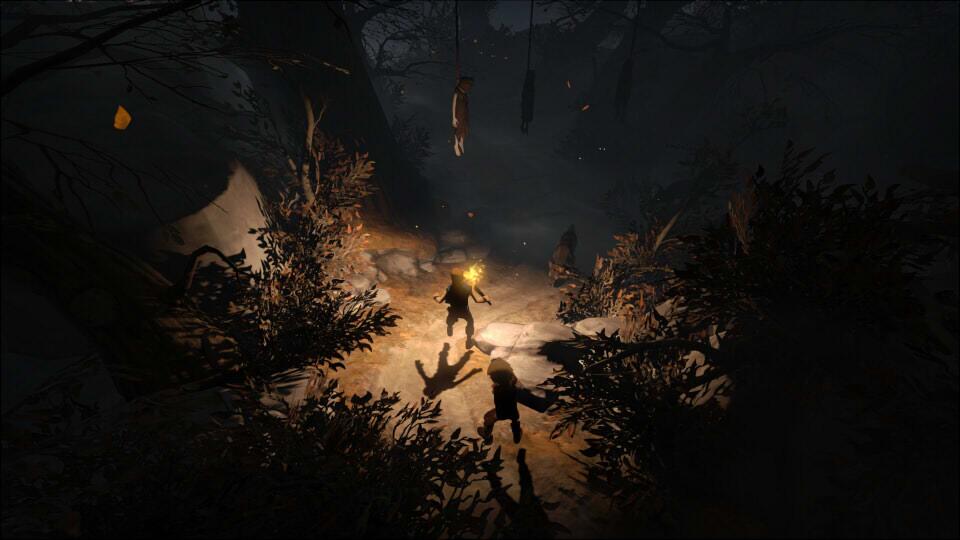 One of the prettiest games I've ever played. Take your time solving puzzles and look around you, the world in Brothers is so beautiful. Too bad sometimes the puzzles are too easy and fast to solve so you're just like passing by...
--Music--
Another perfect score. The...what you call it again, oboe? Well whatever is that, the instrument really sink you deeper into the game. Sad, content, intense, happy moods are represented very well with the music.
--Story--
If I remember correctly, this was taken from an ancient Swedish folk story? Original or not, the story in this game ROCKS.
OPENED WITH THE ADORABLE BROTHERS TRYING TO TELL YOU HOW DIFFERENT THEY ARE (make them interact with everything, yep.),
then the brothers trying to figure out how to do journey,
discovering and exploring new places,
encountering strange creatures,
RIDING MOUNTAIN GOATS THAT WAS THE BEST,
and suddenly,
sadness
deep
sadness
I almost cried in one scene, then CRIED REALLY HARD in another scene, took a break because I couldn't handle the sadness, snorted and drank cold water, THEN CRIED AGAIN AFTER CONTINUING THE SAME SCENE.
AND WHEN I THOUGHT IT'S ALREADY OVER,
THE GAME SCORED A SQUARE PUNCH ON MY FACE WITH ANOTHER,
SADNESS.
Conclusion, if you like deep and meaningful games, Brothers is just perfect for you. Prepare a lot of tissues and cold water, trust me. Oh, a pillow or plushie might be useful too. Plus point if you have a cat you can squish on (which unfortunately I didn't).
And now the game left me broken and shaken. It scarred my life for eternity. Good job, Starbreeze Studios.
I'm done living for tonight.